Professional dance training centre
The Centre de Formation Professionnelle en Danse de l'Ecole de Ballet – Studios de Biarritz (CFD) is the result of 30 years' experience at the Ecole de Ballet. It offers higher education in classical and contemporary dance to prepare students aged 15 to 22 for a career as a dancer.
Comprehensive, personalised training is provided over 15 to 20 hours of dance per week, with classes in technique, repertoire, barre à terre, stage and theatrical expression, as well as choreographic workshops, master classes and public performances.
The C.F.D. prepares students for competitive examinations and the E.A.T. (Examen d'Aptitude Technique).
The teaching team, coordinated by Maria Romanova, is made up of 8 C.A (Certificat d'Aptitudes) and D.E (Diplôme d'Etat) teachers who have all been professional dancers in major companies.
Thanks to an agreement with the Lycée André Malraux in Biarritz, the CFD is able to offer special timetables from the second year of secondary school, enabling students to pursue their studies while aiming for a professional level in dance.
CFD – Biarritz
c/o Ballet School / Les Studios de Danse de Biarritz
2 Boulevard de Cascaïs
Quartier Kleber – 64200 Biarritz
www.ecole-ballet-biarritz.com
Maria Romanova
05 59 24 70 54
contact@cfd-biarritz.fr
Numeridanse is the multimedia platform for dance. It provides access to a unique video collection: filmed performances, documentaries, interviews, fiction and dance videos. All genres, styles and forms are represented: butô, classical dance, neoclassical dance, baroque dance, Indian dance, African dance, flamenco, contemporary dance, traditional dance, hip hop, tango, jazz, circus arts, performance art, etc.
Numeridanse is supported and coordinated by Lyon's Maison de la Danse, and was the brainchild of director Charles Picq.
Since its creation, Numeridanse has been co-designed and developed in partnership with the Centre national de la danse and supported by the BNP Paribas Foundation and the French Ministry of Culture.

A community platform
Theatres, festivals, companies, artists, institutions, National Choreographic Centres, producers – these international structures enrich Numeridanse's video collection every day by offering their video collection on the platform and through the various mediation tools on the site. This community is also involved in the life of the site, participating in its development and financing.
A resource site
Discovering the world of dance, understanding its history, finding out about a style, a choreographer, a company, preparing students before attending a performance, finding out more about a choreographic culture… Numeridanse is a resource site for artistic and cultural education.
The Thémas section lets you discover the world of dance through a webdoc, a tour or a virtual exhibition.
The Tadaam! space is a discovery space for young audiences and an educational resource space for teachers.
Biarritz multimedia library
Thierry Malandain has created more than 80 ballets since 1984, which are associated with archives.
As part of the Ministry of Culture's heritage policy, Malandain Ballet Biarritz has benefited from the National Digitisation Plan since 2011. This plan makes it possible to digitise, safeguard and perpetuate a work, thereby anchoring it in the heritage of dance. In Thierry Malandain's case, the aim is not only to digitise the footage of his performances, but also to digitise a body of documents to complement and understand his work :
• the ballets
• collaborators
• the companies
• awareness-raising initiatives
• artistic influences
• his work (characteristics)
All these elements make up the "Thierry Malandain collection". It is deposited at the Biarritz Media Library, which stores and preserves the Ballet's archives in association with the Centre National de la Danse (CND).
Podium Competition - CDC Le Pacifique
Podium is a competition and a tour that acts as a lever for the dissemination of contemporary dance, in a cooperative and virtuous dynamic in terms of sustainable development. A genuine moment of artistic effervescence, PODIUM is as much a celebration of dance as it is a not-to-be-missed professional event.
– 2 evenings with 6 performances to discover each evening
– 12 extracts from shows selected by 17 partners
– 2 prizes awarded by the public, one for each evening
– 2 prizes awarded by a professional jury: one for solo duets, one for group pieces
– Tours the following season for the winners
CRR Maurice Ravel Pays Basque
As part of a partnership agreement, students at the Conservatoire Maurice Ravel Pays Basque benefit from a close relationship with Malandain Ballet Biarritz. Open rehearsals, master classes and workshops are organised on a regular basis, and pupils have the opportunity to attend a class or a rehearsal by the company or companies supported in the studio, or to work on Thierry Malandain's repertoire. Patricia Velázquez and Raphaël Canet, dancers from the Ballet, have also been chosen as mentors for certain classes.
Basque Cultural Institute and Basque Dance Federation
The Basque Cultural Institute and the Basque Dance Federation (Ipparaldeko Dantzarien Bilzarra), as part of the cross-border choreographic centre, are loyal partners of Malandain Ballet Biarritz in events such as Rendez-vous basque, Regards croisés, territorial cooperation projects, etc.
The Instant Présent association was set up in 2015 by Aureline Guillot, a former dancer with Malandain Ballet Biarritz. She is running 2 projects in partnership with the CCN Malandain Ballet Biarritz, creating a close link with the 200 adults who have returned to dance and practise it regularly.
Ballet classes for adults
The initial observation that prompted the launch of these evening classes for adults was that many women who had practised dance in their youth could no longer find their place in a ballet school once they became adults. In response, Aureline Guillot offers dance classes at different levels, aimed primarily at active women:
barre à terre classes for gentle dancing at any age, a way for some women to get back into dance;
evening classes at 6.30pm to help reconcile professional and personal lives;
workshops in which excerpts from Thierry Malandain's repertoire are put into perspective with the work of other classical choreographers, providing an opportunity to gain an understanding of our company's choreographic universe;
Weekend courses throughout the year to explore certain subjects in greater depth with other speakers;
dance-related social events, including outings to shows and film screenings.
These dance classes and workshops are also the main breeding ground for the "University of Movement" project, and most of the students attend performances by Malandain Ballet Biarritz with their families.
University of Movement
One of the initial observations that led to the creation of the Université du Mouvement was that, unlike in theatre or music, there are very few amateur dance groups.
The Université du Mouvement, run by the Association Instant Présent, aims to give around twenty amateur dancers the opportunity to experience the whole creative process, from the audition to the emotions of performing on stage, over the course of an entire season. The dancers have the opportunity to create a piece with choreographer Gilles Schamber and to learn an extract from a piece by Thierry Malandain, which is adapted and performed by Aureline Guillot. This programme is presented during the festival le Temps d'aimer and during the rendez-vous on the Quai de la Gare.
Dantza Hirian is a cross-border travelling festival offering a programme of contemporary dance in urban landscapes, completely free of charge, in Aquitaine-Euskadi and more specifically in the Bayonne-San Sebastián Eurocity (600,000 inhabitants – 50 km). It links contemporary dance and architecture, exploring and bringing this art form closer to the citizen, using it as a tool for social cohesion. Internationally, it has carried out other projects at various festivals through the CQD-Villes qui dansent network, with which it has been associated since its inception.
Key figures since its creation :
9 towns
152 urban landscapes
 125 hours of free performances
 72 dance companies
 160 artists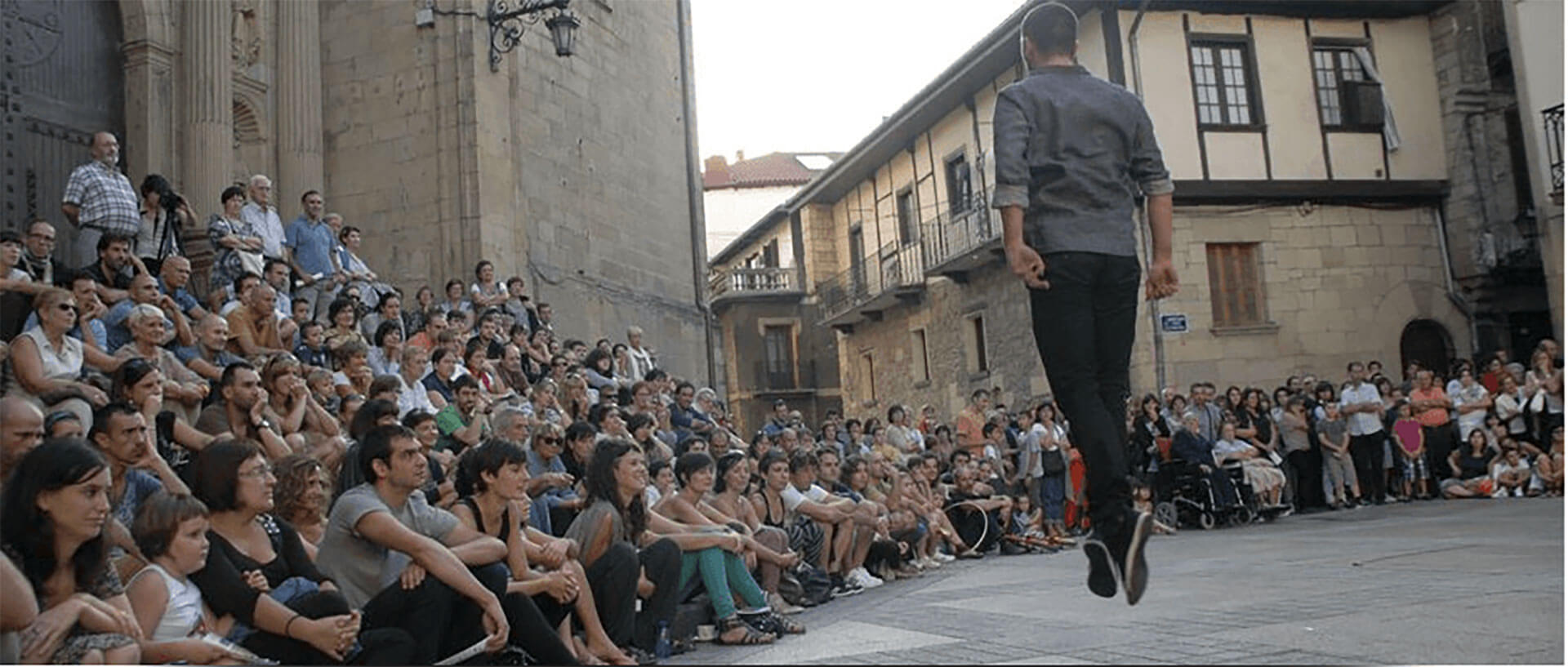 The 1st edition of the Bournonville workshop in Biarritz was launched in 2009, thanks to the passion of Monik Elgueta and the support of the City of Biarritz and the CCN Malandain Ballet Biarritz. Organised by the Association Bournonville in Biarritz, this workshop devoted to the style of the Danish choreographer is unique in France and has the particularity of taking place over six sessions, from 2009 to 2014. The 6th and final edition took place from 28 July to 2 August 2014.
Auguste Bournonville has created 6 classes, six series of exercises to enable dancers to gradually prepare their bodies for dance; one class per day, from Monday to Saturday. The aim of this event, which is unique in France, is to pass on the six classes created by the Danish choreographer over a period of six years, as well as his distinctive style, thanks to the Bournonville Faculty, made up of a team of teachers from Denmark.
Teaching team
Frank Andersen, Director of the Royal Danish Ballet from 1985 to 1994, and 2002-2008 and of the Royal Swedish Ballet from 1995-1999. Professor at the Beijing Dance Academy
Erik Aschengreen, Danish teacher and critic
Dinna Bjorn, director of the Norwegian National Ballet 1990-2002, and the Finnish National Ballet 2002-2008. Guest teacher in major companies.
Eva Kloborg, professor at the royal ballet of denmark, character dancer.
Thomas Lund, principal dancer and ballet master at the Royal Danish Ballet. director of the Royal Danish Ballet School.
Ole Norlyng, Danish musicologist and art critic
Flemming Ryberg, principal dancer, ballet master and teacher at the royal ballet of denmark
Anne Marie Vessel Schlüter, ballet mistress at the Royal Danish Ballet, director of the Royal Danish Ballet School from 1988-2006
Eric Viudes, principal dancer at the Norwegian National Ballet and teacher
Accompanying pianists, Corine Vautrin and Jean-François Pailler