The Associate Artist measure
As part of the "new measures" in favour of dance deployed by the Ministry of Culture, since 2016 the CCN Malandain Ballet Biarritz has had additional resources to host an associate artist.
This makes it possible to provide companies with full support and guidance at all stages of production for a period of two to three years, and for the CCN to nurture their artistic, educational and outreach programme through a sustained relationship.
The Ministry of Culture's circular dated 8 June 2016 on support for artists and artistic teams in the context of residencies
Download (PDF)
Associate artist 2022-24: Jon Maya / Kukai
On Thursday 10 November 2022, Thierry Malandain and Jon Maya, respectively director and choreographer of Malandain Ballet Biarritz and Kukai Dantza, formalised their cooperation by signing an agreement. Under a measure introduced by the French Ministry of Culture, Jon Maya has become an associate artist of the Centre Chorégraphique National de Biarritz for a period of three years, following in the footsteps of Martin Harriague from Bayonne.
The agreement was signed at the town hall in Errenteria, where Kukai Dantza is based, in the presence of Mrs Aizpea Otaegi, the mayor of this town in the southern Basque country, which is home to a number of choreography-related structures: Dantzagunea – Diputación Foral de Gipuzkoa, Dantzaz, the Conservatorio de Errenteria, and the Lekuona Fabrika theatre…
The signing of this agreement is part of the Pôle Chorégraphique Territorial of the CCN Malandain Ballet Biarritz created in 2020 and supported by the Community of the Basque Country, with a view to strengthening the impact of local initiatives. Jon Maya and Kukai Dantza will thus enrich the work of the CCN Malandain Ballet Biarritz in the North and South Basque Country and enable the CCN to support Jon Maya and Kukai Dantza in their productions and the dissemination of their creations.
This new collaboration is also part of the multi-annual 'Ballet T' agreement that has brought together the cities of Donostia San Sebastián and Biarritz, the Victoria Eugenia Theatre and the CCN Malandain Ballet Biarritz for over ten years.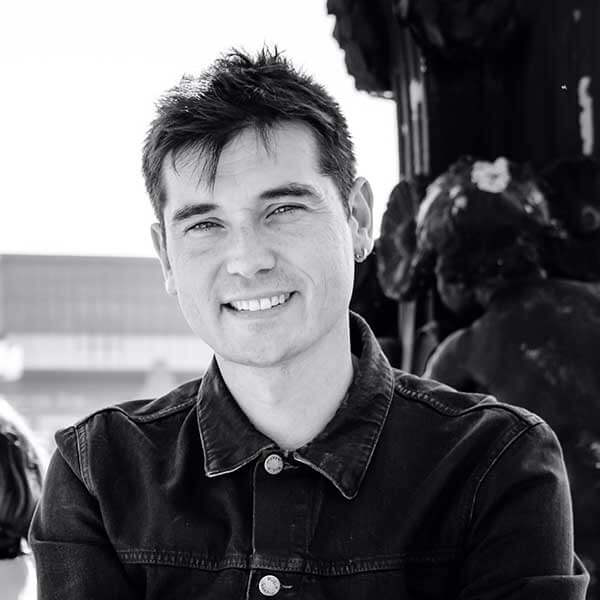 Director, dancer and choreographer of Kukai Dantza. Jon Maya began dancing traditional Basque dance at the age of six, with the Ereintza dance group from Errenteria (Gipuzkoa, Basque Country). With this group, he took part in international folklore festivals in a number of countries, becoming Aurreskularis Basque Country champion seven times between 1997 and 2005. After taking part in the Laxok project in 1999 and 2001, he decided to create Kukai Dantza in 2002. His idea was to : "to create contemporary shows based on traditional Basque dance". With Kukai Dantza, he has developed and consolidated this idea. In recent years, he has focused his professional career on developing this project and building the foundations of Kukai Dantza as a dancer, choreographer and director.
The meeting of artistic languages and the ability to make collaborations are the main hallmarks of his work. In this direction, he usually collaborates with numerous artists/choreographers such as Marcos Morau, Sharon Fridman, Israel Galván, Cesc Gelabert or artists from other disciplines such as Andoni Luis Aduriz for gastronomy, Tanttaka Teatroa, Arena Comunicación for cinema, the Bilbao Museum of Fine Arts, the Museum of the University of Navarre, etc. He has worked as artistic director of major events: director of galas at the San Sebastian International Film Festival 20
Learn more about Kukai Dantza
Associate artist 2018-2021: Martin Harriague
In 2016, through the Young Choreographers competition, the Ballet spotted Martin Harriague, a young choreographer, and offered him a first residency for creation and dissemination. On the strength of this initial feedback, long-term support is essential to :
• encourage his emergence as a choreographer by enabling him to create a new piece for the Ballet's dancers, as well as for other dance companies in France and Europe, and by promoting his work in numerous venues;
• to prepare Martin Harriague to meet the current challenges of a Ballet with a permanent artistic workforce and a repertoire in terms of production, dissemination of choreographic works, human resources management, understanding the legal fundamentals, image development and social responsibility…
A polymorphous choreographer, Martin is by turns a set designer, dancer, performer, lighting designer, composer, musician and singer, and he likes to bring together different disciplines to explore different media and formats: ballet, opera, video, fashion shows, small forms, large-scale productions and duets.
His writing never ceases to develop through his personal projects and collaborations with other artists. He sees his dance as a dance… that dances. Physical and explosive, it is often telluric, with movements firmly rooted in the ground and gravity never far away.
And then, driven by a sense of dramaturgy not devoid of sarcasm, Martin seeks to give substance to the emotions through an assumed theatricality, and it's easy to feel what it is about our times that moves him positively… or negatively.
Learn more about Martin Harriague